Elizabeth Arden skincare is such well researched, lasting beauty, check out these beauty products, fun and useful for a fit beauty like YOU!
Try the effective Elizabeth Arden product, Lash + Brow Serum, there are many raving reviews, and I have it myself for LONGER lashes!!!
RESULTS:

I have been using this product now for several weeks off and on, it is hard for me to do every night as my eyes are sensitive and need a rest, but alternating nights is fine for my sensitive eyes, and YES, I have noticed more healthy, longer lashes. Not thickness, but definitely longer. I did not use mascara for several weeks, yes girls, you can go without it! AND, when I used some just gently, I definitely noticed my lashes were longer and strengthened. Much less brittle after a very cold winter :)
** Paraben free! ** **Non-Irritating** **Effective**
You can get it here at Lord & Taylor, which accepts all major creditors plus PayPal, too!
Elizabeth Arden PREVAGE; Clinical Lash + B...
Available for the first time; this Clinically Tested formula is shown to reveal visibly...
[More]
Price: 98.00
PLUS, if you administer every other night, you prolong the use of the product!
If you do not want to use prescription lash lengtheners that may discolor, yes discolor blue irises, this Elizabeth Arden product is for you!
Here are more Elizabeth Arden products that have staying power and look fabulous~
I am so excited to share
my knowledge with you regarding Elizabeth Arden's Prevage skincare products. I have been researching the Prevage offering for over a year now, have tried the Prevage serum for several months, it works best on mature skins.
I saw a Dr. Oz show that touted the ingredients in the Prevage line as compared to other products out there. Scientifically the ingredient Idebenone Ester also known as "
hydroxydecy ubiquinone"
proves to be a superior technology, from the Arden website:
"Idebenone is currently the most effective** molecule for use in preventing and addressing the impact of oxidative stress on the skin." - Dr. David H McDaniel, Director, Institute of Anti-Aging Research.
**For face products, environmental protection is against oxidative stress due to sun, smoke and pollution, with Idebenone compared to alpha lipoic acid, kinetin, vitamin C, vitamin E and coenzyme Q10. EPF® and Environmental Protection Factor™ are certification marks and trademarks owned by Pharma Cosmetix Research, L.L.C.
**Consumer test conducted on 102 women age 25-65 over 4 weeks
For eyes, here is the serum eye treatment containing Idebenone, absorbs well, no sting or eye sensitivity~
Elizabeth Arden PREVAGE; Eye Advanced Anti...
This intensive anti-aging serum delivers revolutionary Idebenone; still unsurpassed as ...
[More]
Price: 100.00
Here is a great set of the

Prevage Day Products

~
Elizabeth Arden Prevage Day Set
Gift set includes: PREVAGE Anti-aging Moisture Lotion Broad Spectrum Sunscreen SPF 30 1...
[More]
Price: 129.00
For Serum fans, the Elizabeth Arden daily serum I have tried and really like~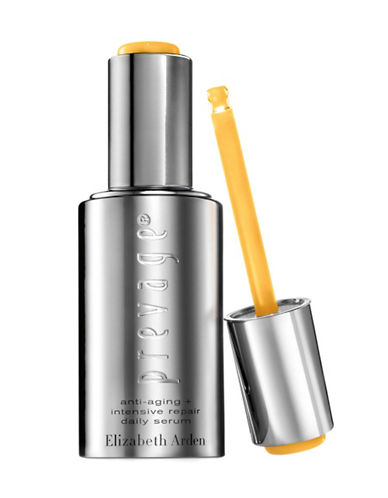 Elizabeth Arden Prevage Anti-aging + Inten...
Environmental stress causes aging twice as fast. Our breakthrough correcting serum impr...
[More]
Price: 225.00
For fragrance, I love the Green Tea Parfum, great for on the tennis court!
Green Tea Parfum
by Elizabeth Arden is a lovely scent with tea like tones for all day wear, great before a tennis match, give it a try!
Elizabeth Arden Green Tea Honeysuckle 3.4 ...
Spring is in the air and it smells like happiness. Introducing our irresistible new fra...
[More]
Price: 39.50
Back to EYES !!! !!!
Also, cannot resist telling you about

Elizabeth Arden Beautiful Color Eye Shadow,
get them with the promotion going on!
Check out these new eyeshadows that tighten, lift and smooth the lids! Great for over 40+ beauties! Here is the data from their website:
TEST RESULTS


- 100% say they're gentle enough for their eyelid skin

- 99% report it's easy to apply and comfortable to wear

- 96% report works well with all skin types

- 93% report that these perfectly paired colors glide on evenly without creasing

- 93% report eyelids look smoothed

- 90% report that these eye shadows are long wearing & have staying power

- Over 65% said their eyes looked smoother and more youthful

- 69% said their eye lids had a firmer look

- 67% said it gives their eyes a more youthful appearance
This lovely, versatile shade called

Amethyst

will enhance any skin tone and applied over the eyelid will give the appearance of mild smoke to brighten your eyes~